Why Office Design Matters
May 2021 | Servcorp
A beautiful, well-considered office design can make all the difference in attracting employees and help existing teams feel more engaged.
Coffee stains on faded Formica desks, pokey cubicles, and harsh fluorescent lights – ugh. Luckily, these are office design relics in 2020.
Beauty, sustainability, and comfort rule the new modern office design. As businesses become more dynamic, we need offices that reignite collaboration and confidence. Rapidly changing technologies, wellness-centred solutions, and comfort are the new priorities.
So, finding the right office design to meet these needs is becoming increasingly difficult. The 2021 office must be a flexible space authentic to your brand, dynamic and human-focussed. The influence of good office design can't be underrated. It should be at the core of leading workplaces in 2021.
Office interior designers are working to anticipate organisations' ever-evolving needs as the future of work changes. They must simultaneously reflect a cohesive brand environment that celebrates innovation, your company's corporate culture, and vision. Not much to ask for, is it?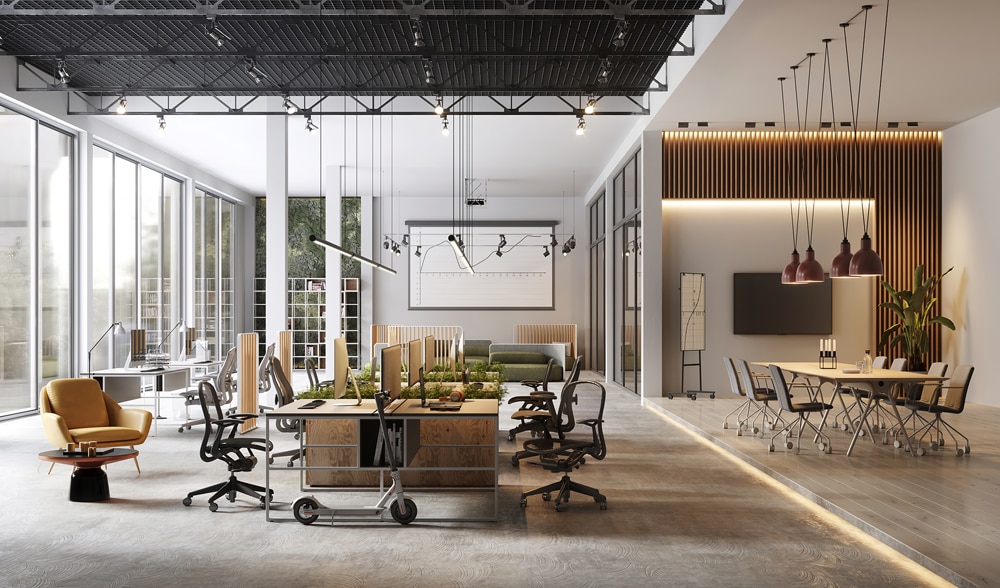 Bold transformations in the way employees perform, interact with, and operate within built environments are emerging. Employees and prospective employees no longer want to work in one-size-fits-all spaces. Instead, contemporary workspaces need to boost performance and productivity, attract talented recruits, retain talent, reduce absenteeism and presenteeism.
Trends on the rise in 2021
Understanding the significant influence that purposeful office design has on employee productivity and wellbeing distinguishes leading organisations from those that take a more traditional approach.
Happier employees are more productive, and your business booms as a result. Let's look at some of the trends emerging in commercial office design for 2021.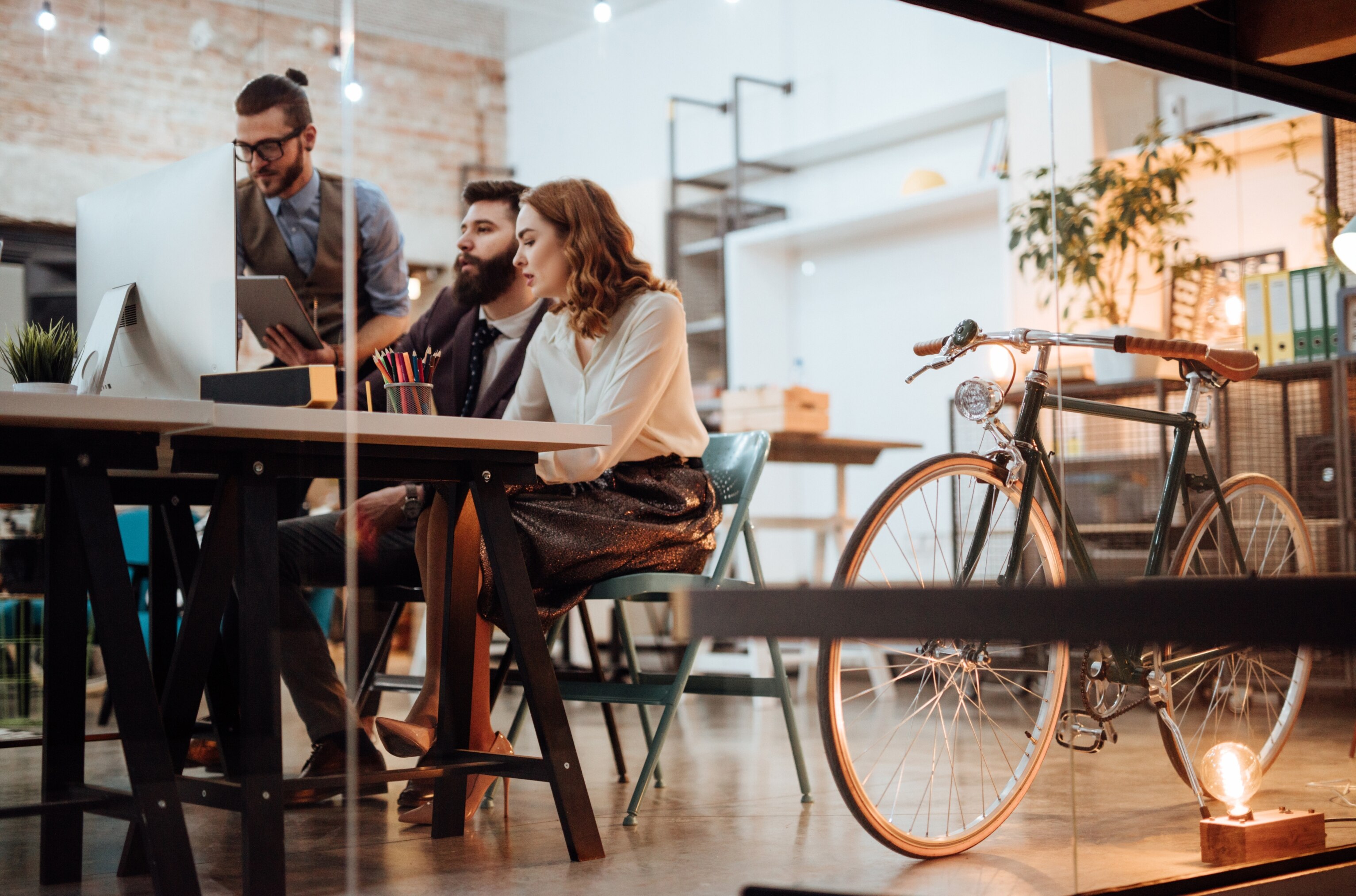 1.  Open plan floorplates can sometimes be difficult for organisations to navigate. However, they're very functional, so they probably aren't going anywhere any time soon. But the traditional 'one size fits all' approach is outdated in 2021. Businesses must look for ways to provide employees with both personalised and private spaces.
2.  Domesticated spaces. We're all homebodies now—a recent study by CNBC showed 70% of professionals globally now work remotely at least one day a week. A huge 53% work remotely for at least half of the week—that's a lot of people at home.
Companies are rolling out hybrid models of remote and onsite work to support graduated workplaces reopening.  Having employees physically present in the office is designed to boost morale and build personal connections.
Office design spaces that connect employees through technology are more vital than ever. Think video conferencing rooms that create the illusion employees sit at the same meeting table, file-sharing platforms that help virtual collaborations, and file-sharing software that lets teams work together wherever they are in the world.
3.   Nurture nature inside. Biophilic design is an exciting concept that integrates the fundamental structures of buildings with nature. Kenneth Freeman, Head of Innovation at Ambius, says it's about "humanity's innate need to connect with nature and the natural environment. As a species, we've divorced ourselves from our natural habitat."
Think about how animals in the zoo show signs of physical and mental stress when placed in sterile, unenriched environments. So do humans when forced to work in spaces that lack variety, colour, and vibrancy. Biophilic office design will soon become as vital as windows or staircases in commercial office design.
4.   A sense of community. Our increasingly digital world poses the real danger of disconnection from the business community.
Organisations must reimagine and redesign their office design to foster and promote connection, flexibility, and community for employees in an increasingly remote world. Designers are now focusing on creating inviting, comfortable spaces complete with cafés, bars, lounge furniture, and breakout spaces.
Community lies at the heart of Servcorp workspaces with breakout areas, coworking, communal fully fitted kitchen to create those impromptu conversations.  Clients of Servcorp also have access to 50,000 global community members via their online Community platform.  The community is as much of a social tool as it is a business resource.
5.   Eco-driven – the sustainable office interior design. As offices emerge from dull Formica and fluorescent-lit cubicles, sustainability is here to stay. Sustainable office design integrates recycled, sustainably sourced, and green building materials, emphasizing technology-driven energy efficiency, environmental conservation, and ecological compliance.
This means a more harmonious and respectful relationship between the natural world and our workplaces. It's called environmental wellness in design circles, and it's the new buzzword. Expect to see this trend continue in new and exciting ways in the post-coronavirus landscape.
For companies considering flexible workspace options, Servcorp's in-house Property Design team will customise designs complimentary to personalise the space and culture.  Gone are the days of adapting to serviced office standard facilities and structure.
6.   Reimaging modular office design. The open office space may be here to stay, but organisations are looking for ways to give employees personalised, private spaces for deep focus work.
Furniture helps employees stay creative, happy, and productive, including drafting tables, standing desks, benching workstations, and insulated phone booths.
7.   Experience-driven spaces. See it, feel it, know it. Incorporating direct experiences into commercial office design is particularly crucial for the hospitality and retail industry.
The trend incorporates different elements to maximise "human potential" with the ultimate goal to make the employee experience a primary focus. It aims to boost morale for all, from the new intern to the CEO.
8.   Light it up. How much impact can a simple light have? Well, as it turns out, a lot. Studies show lighting has asignificant impact on productivity from regulating circadian rhythms for greater at-work health to mood enhancement, body function, and alertness.
Natural light is an essential element of any good office design. One study found significant benefits for natural light exposure at work, including increased physical activity, a better quality of life, and sounder sleep. They're also more likely to have a positive mindset and be healthier. And everyone likes to look at a view while pondering a challenging work problem; it's only natural.
Go forth and beautify.
Aesthetics is key to the new commercial interior design. So, as stuffy, poorly lit offices thankfully fade into obscurity, beauty is the new black. Create some in your office today, and your people will reward you for it with greater productivity, innovation and enthusiasm for a great day's work.
Servcorp optimises our working environments to reflect the latest in office interior design, science, and technology. Visit your local Servcorp office to see these trends in action today.